I was talking with my friend earlier on about media player and he claimed to say the Dune HD is the better one to get now.

Personally, I have lost touch with these media player due to lack of time figuring and playing back. I still have my trustworthy Elekron 606 and the last played is last month... hurray, it is still working well.

If you have tons of movies in your computer, maybe sources from Giganews or ripped out from DVD or BD, try put them on media player if you really enjoy surround system. How nice is it to have the 5.1 or 7.1 running when watching the movie?

Let's not get into those hi end or really-crazy-fellas who do up a home theater room. Of course, it is great to have such room unless either, you have a spare room to do up or you have 1 kid.

When you do a home theater system room, there are lots of thing to consider at. Calibration and killing some frequency. Oh dear, are we talking about studio set up now? Hell no... it is not. There are people who are so particular that they really want to eliminate the frequency.

Being an audio engineer of myself, having studied a lot on sound, sometime I will chose to close one eyes regarding to home theater sounding. Reason? Can you tell the different? I will applaud if you does. Minority people have sensitive ears to certain frequency. Majority? They read and try to follow as much as possible. I find it amusing with that. You sure?

I dare not to say anything because to each of their own. Maybe they do.

Having said about HTS, why not concentrate on the movie you enjoy with the decent set up?


Well, presenting you Dune HD extension.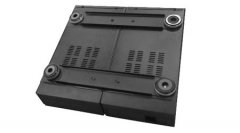 So, what does it do? Why am I saying this?
Save cost.
You want BD player or HDD for media player?
There you go! Mix and match it using the extension bracket and form it like a true blue player.
Isn't that good? Neat and cleaner.
You can have BD player using Dune and it cost around US299. It accept all kinds for files. e.g. ISO
Now, sit back enjoy the movie with your pop corn on hand!
When time ripe, I will definitely get this. Heard that there will be new motherboard to support the 3D movies too. Hang on tight tho.