I do not know why I am feeling so tired today!
Had brunch session at Waterloo St with mom, wifey and Cait for the great Katong laksa and nasi lemak after praying in temple. Decided to head up to Hung Brothers to get Sony MDR7506 headphone padding, thanks goddness they have it!
It is weird that this model of headphone often went out of stock! That goes for 7509 too! Costing 200+ and 300+ respectively.
I am looking for small compact mixer until Haw told me about Focusrite soundcard with volume control.
That is exactly what I want.
I hate using onboard M-Audio volume control tho. It is useful if you have the volume control knob which enable you to adjust it swiftly. Anyway, Haw also recommend me Motu too. I did a check on both of them, they are great stuff.
If you ever want to have legalized program as well, go for M-Box (M-Audio) whereby they include Protools software as well.
Focusrite
Focusrite Saffire PRO 24 DSP
Good thing is that they come with headphone volume control too! Of course, there's MIDI I/O for you too.
Motu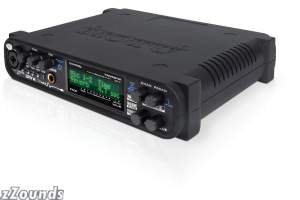 Motu UltraLite-mk3
Very similiar to Focusrite.
These 2 are good brand and worth the money too! I had no idea which to get in future.
But if you are looking at high-end soundcard, do look at RME!
RME
RME Multiface II (PCI & Cardbus Series)
RME is very well known and lots of great producer are using them. Somehow, I did not see any volume knob for main mix.  I reckon you got to adjust onboard volume as well. In face, my company is using RME soundcard too, but not this range.
Protools
Digidesign M Box 2
If you are holding on to M-Audio soundcard already, take a look at
M-Powered 8
.
M Audio
Personally, RME is in my list but due to cost, I reckon I might go for either Focusrite or Motu. If I ever like Protools software, M-Box2!
What's yours?
Oh yes, just to share that Flock finally fixed the issue using their uploader to flickr site! Work flawlessly! At least there's no large image in my flickr account!
At least I can set to 640 by 480 when uploading.
Damn it... I posted when I have not even finish typing!
After getting the headphone padding for my office, both my wifey along with baby went home after sending mom to work. Seriously, I do not know
why
, but I just doze off on the chair while watching TV! At least I am feeling fresh now.
I am suppose to do some simple photoshoot but I end up lazing and resting! I am suppose to work along with a girl for her TFCD but I have nothing in my mind! *
banging my head against the wall non stop!*