Had a great feast over at Tao Payoh yesterday. The location is in the temple where all my relative (mainly the elders went), all of us prayed to my Grandfather (Dad's side). This is because yesterday was his death anniversary. As told by my dad, my grandfather had to eat before 12 noon. Don't ask me why, this is passed down by the ancestor. Better to follow thou.
We had our fill, sent my mom to work before we went to my grand ma house to return the ice box. Thanks to my sis & bro in law ride. Then we head off to Sim Lim Square to buy lottery and go to the game shop to ask about the mod stuff. At the same time, I do have component cable problem so it's a must for me to get it change. Without so much question, they changed for me., The only hatred about this shop was, they do not tell you the 7% GST, so please beware. Overall, I am a happy customer there. I also gotten my Wii Fit there! I am tempted as it is quite low then
Gamescore
. (Do not forget about the 7%!) I paid via Credit Card as I want the bill to come next mth. So, there's another 3% extra. A total of $190, I paid $209 for it. I can actually get the set from Gamescore but they do not do the mod hence it's better not to ask there. So I get the stuff from SLS with tonnes of question ask. Lots of question been answered and the rest is up to
GOOGLE
!
My Wii Fit!
My lovely box!
As stated: 136Kg and below only!
The Wii Fit game come along with the board.
Tried standing on it and it does feel great!
Same as the controller, there's a red button on the right side of the battery compartment for you to press and sync to the Wii. 4 x AA batt are needed.
I do love the design for the corner as it is made in rubber to protect against knocking and leave a dent on it.
The power button
What it consists inside the DVD box.
Will appreciate if someone can translate these 2 for me.
Love my Wii so much and for the Wii Fit that I got, I must find the protection case for it! This is good for protection!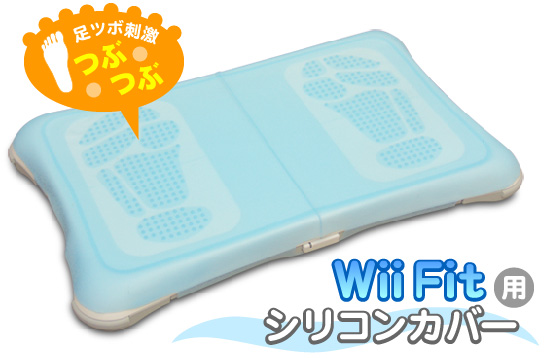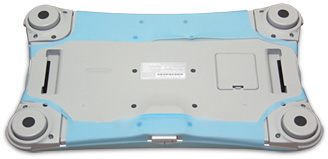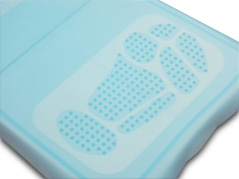 After buying that, I got a sad feeling. Because my mom announced that she won't be working since her boss is quite unstable now. So in a way, I got to take care of her and as what I know, my sis had been giving her money monthly and this is only enough for her to pay off the insurance. I do feel a bit of regret and guilty after buying my Wii. But as for leisure and so much of hard work, I do not mind buying it and share with my family. At least it is something both my wife and me can get after a hard tiring months of preparation. Due to this circumstances, I am unable to get a new insurance for my future and I cannot think of my Home Theatre system anymore. I do hope to provide a decent amount of money where by she can spend, save and pay off whatever she can.
Meantime, I do not mind tying myself so hard. I can only hope fore the photographing project to come faster. Kelvin and me felt a little impatience about the oncoming job and keep our finger cross about it. Once everyone is happy for what we did, future will be great! More jobs, more money and stay comfort.
Luckily that I had 1 installment ending this month, 2 during May. From then, I only have 2 installment running! Cool huh. *Phew* My mom even told me that we should try to save up than buying those stuff. (In my heart, I really think that I really wanna make ourselves happy. Why can't I spend my own money to the things that I really want to get? In a way, I should give her the money instead of spending it. But this is the last time I be buying my own thing so from next pay onwards, I be providing more money to my mom and dad. ) I told my mom that this month I really had no $ to give as I literally over spent! All I get was"Sign more credit card lor" I felt that I know what I am doing. I never spend because I had credit card. I spend within my limit because I know I gotta pay off next mth. I counted before I spend so I really hope that my parents will stop telling me that I sign and sign and sign. This is get the stuff first, I pay later on. Eventually I still got to pay off, I do not owed CC coy money. Not to worry.
Next Sunday, my 5th Aunt is inviting the whole relative to their house for eating session, swimming etc etc etc. Why? As told by my sis, they finally teach their new maid how to cook decently and this will be the time they are going to showcase their maid cooking skill. (LOL) In a way, I do find that we had a lot of relative gathering within these few months. I do enjoy it! So long as we talk and have fun, cool. But due to so many gathering, we better watch out our diet! haha.. I am putting on weights again (time for Wii Fit! OTO Trimax! Suana Solution! Last but no least: Treadmill)
I do hope that I can have the money to change my dining table and re arrange the chairs so that I can place my treadmill outside in the living room. Because the room is so HOT and I wun even think of running on it. Having the treadmill in the living room, it will be airy and great for jogging while watching tv! Cool huh! Look like it will be a long discussion.
Yah.. time for save up... 50K to reach before we can start renovating our house.